Details

Written by עורך ראשי
Category: קורות חיים
Created: 30 October 2015
Hits: 6060
Haim Halachmi is considered first film director in the Yishuv (pre Israel Jewish community in Palestine).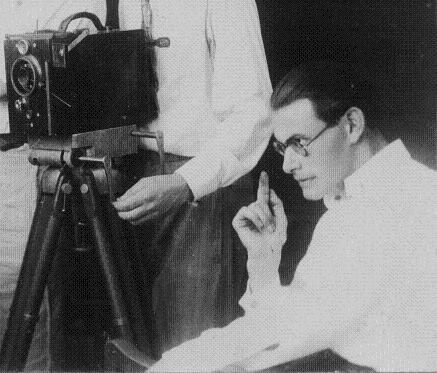 Halachmi was also a film producer, theater actor & owner of film production companies. Between his films are the first ever Israeli plotted full-length drama movie filmed in Israel "Oded Hanoded", produced & filmed on 1932 and the "Va'Yehi Be'May" Comedy, also from 1932 (Both film, silent films).
Filmography
"Va'Yehi Be'May" (Once upon a time) was first screened on June 4th 1932 (Thus, actually the first commercial screening of an Israeli cinema) and "Oded Hanoded" was screened on December 27th of that same year – Thus both become the roots of the Israeli Cinema industry.
In 1993, directed "Yoman Tel-Aviv No. 1".
Those films, where a part of Haim Halachmi's effort to establish a professional film industry in the pre-Israel community. As such he was the owner of "Zohar Films" (Est. 1929) & "FAI Studio: FILM ARETS-ISRAELI CHAIM HALACHMI & CO".
His life
Haim Halachmi was born 1902, in smal town of Lubar Ukraine and died 1979 in Ramat-Hasharon Israel. Leaving behind his wife, Dvora Halachmi and his son & film historian Jospeh Halachmi.
His name might be also written "Chaim" and not "Haim".
For a more full biography, see hebrew version.